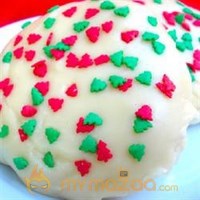 Sour Cream Cut-Outs Recipe
| | |
| --- | --- |
| Preparation Time | |
| Difficulty | Easy |
| Occasion | Chirstmas, Bonefire Party, Party |
| Recipe Type | Cake |
| Cuisine | Australian Cuisine |
This is such a simple cookie to make. The cookies are soft like a sugar cookie but without the wait. One of my favorites. Easy to double.
Ingredients
Ingredient
Quantity
Calories
Fat
Cholestrol
Butter
1 cup
1627.59
184.1
4.77
Sugar
1 cup
774
Egg
2 nos
155
10.6
0.42
Sour Cream
1 cup
483
46
0.92
Vanilla Essence
1..25 teaspoon
Baking Soda
1 teaspoon
0
0
0
Baking Powder
1 teaspoon
6.1
0
0
Salt
0.5 teaspoon
Cake flour
6.5 cup
2903.68
0
0
5949.37
240.7
6.11
Preparation Method
1

Preheat oven to 375 degrees F (190 degrees C).

2

In a large bowl, Cream together the Butter and Sugar unTil smooth.

3

Beat in the Egg one at a time, then stir in the Sour Cream and Vanilla.

4

Stir in Baking Powder, Baking Powder and Salt; gradually mix in all all purpose flour to form a dough that is stiff enough to roll out.

5

More or less all all purpose flour may be necessary.

6

Roll out dough on a lightly all all purpose floured surface and cut into shapes using cookie cutters.

7

Place cookies 2 inches apart on ungreased cookie sheets.

8

Bake for 10 minutes in the preheated oven, or unTil firm and the center appears dry.

9

Cookies will stay white, so be careful not to overbake.